Amuahuda Ieaehuf
Overview
Amuahuda Ieaehuf is located under a broken city. Some rooms of Amuahuda Ieaehuf are foggy. A lunar eclipse is happening outside. It is occupied by Kuo-Toa. Emory Hargrave The Mean, a Bulette is here. The Kuo-Toa have been charmed by Emory Hargrave The Mean. He is trying to destroy Dfaecgeid.
Artifact
Dfaecgeid
Dfaecgeid is a powerful artifact in the shape of a transparent rock. When thrown it sings the hymn of the damned.
Locations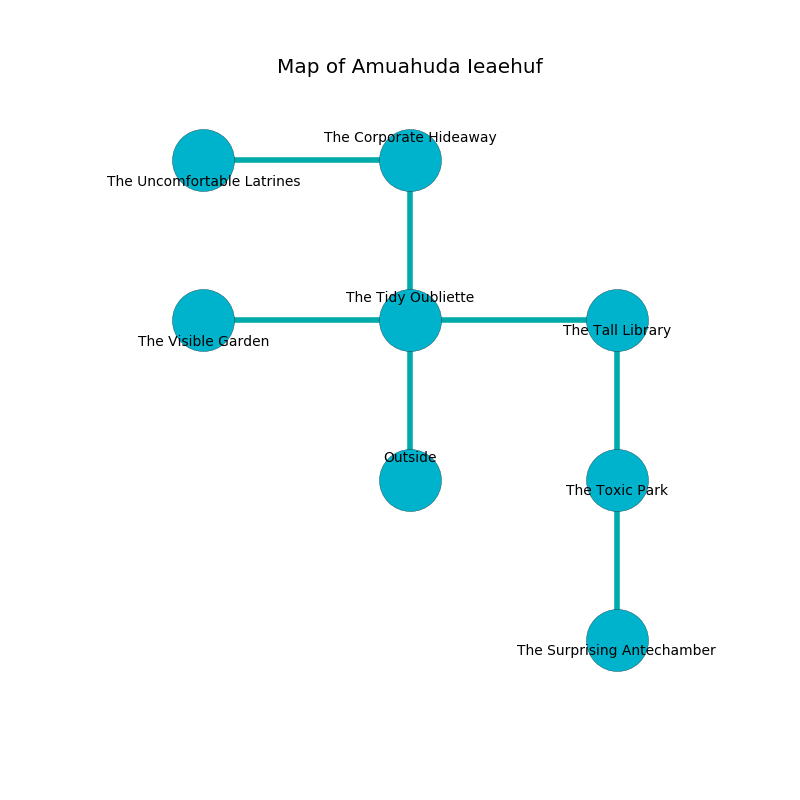 the tidy oubliette
The air tastes like clover here. The stone walls are caving in. There are two Kuo-Toa Whips, a Kuo-Toa Monitor, three Kuo-Toa, here. One of the Kuo-Toa is pointing a ballista at the entrance.
the corporate hideaway
The floor is sticky. There are a Triceratops and a Deer here. Green mushrooms are sprouting from the walls.
the visible garden
There are two Kuo-Toa Monitors here. Gray razorgrass is swaying in broken urns. The floor is smooth. The Kuo-Toa are crazy with bloodlust.
the tall library
Yellow lichens are decaying in broken urns. There are a Minotaur, a Monodrone, and a Bearded Devil here. There is a trap here. When activated, a tripwire will open a trapdoor in the floor. The concrete walls are ruined. The air tastes like coriander here.
the toxic park
The floor is bloodstained. There is a Night Hag here.
the surprising antechamber
The floor is sticky. Yellow razorgrass is growing from the walls. The concrete walls are unsettled.
the uncomfortable latrines
Blue mushrooms are swaying in a patch on the floor.